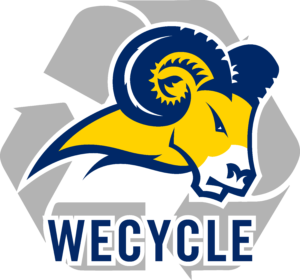 WeCycle is a student-led entrepreneurship project focused on increasing recycling and sustainability efforts at Texas Wesleyan University. 
Fill in the information below to sign the WeCycle pledge and join our community by committing to help reduce the amount of waste being produced on our campus.
WeCycle was founded in the Spring of 2020 as a group project initiated by the ENACTUS program within the Texas Wesleyan business school. 
ENACTUS is a global non-profit community of students, academics, and business leaders committed to using the power of entrepreneurial action to transform lives and better the planet. At Texas Wesleyan, the ENACTUS program has produced many successful projects that have helped local businesses and the Wesleyan community as a whole.  
WeCycle aims to help improve the effectiveness of our current waste management system at Texas Wesleyan by providing education resources and promotional materials to encourage more sustainable waste behaviors and increase responsible recycling efforts on our campus.   
WeCycle is working closely with the Blue+Gold=Green recycling campaign to increase the amount of recycling bins on campus and expand the variety of materials that can be responsibly recycled while simultaneously encouraging the use of reusable products. 
WeCycle has purchased several Zero Waste Boxes from TerraCycle, and strategically placed them around campus in order to begin recycling non-woven disposable plastic-based masks like 3ply surgical, dust masks, KN95, and N95 masks. Ever since the COVID-19 pandemic began, these masks have begun polluting our environment due to their high demand/use and disposable design. 
We've also purchased additional boxes that can be used to recycle plastic bottles/straws, plastic wrap, plastic shopping bags, and even Styrofoam, which are not all recyclable with our current waste management system. 
TerraCycle specializes in collecting and recycling difficult to process plastic products like masks and bags that are typically not accepted at the majority of recycling plants. 
Go to our Resources page in order to learn more about Zero Waste Boxes and what you can recycle with them as well as where you can find them distributed across campus.
In addition to providing more opportunities to responsibly recycle on campus, WeCycle will be distributing sustainable products to members of our community who take the pledge to reduce the amount of disposable waste we collectively produce.
Meet with us during any of our on-campus events and make a social media post promoting WeCycle and you can get a free cotton mask, t-shirt, or reusable water bottle for spreading awareness and helping the cause.